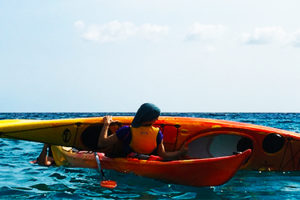 Designed for those of us who want to enter the world of kayaking to be able to go on a sea (closed) kayak  expedition in complete safety. The Initiation course consists of three levels taken on different days, from 2:30 p.m. to 5:30 p.m..
The goal of the Initiation courses is to obtain the knowledge, technique and basic motor skills to be able to use a sea kayak autonomously and safely.
*It is not necessary to participate in a kayak course in order to participate in our scheduled guided tours.
ADVANCED
Eskimo and self-rescue techniques
Expedition kayak
Preparation for TDI kayak access
Participants who have successfully passed the basic techniques of the Initiation courses may take part in any of the following Món d'Aventura kayak courses:
Eskimo and self-rescue techniques
Kayak expedition
Preparation for the entrance exams to the Kayak guide course recognized by the Spanish Canoeing Federation. The price will depend on the initial level, knowledge and control of the kayak of each participant.
Prices include:
Qualified professional instructors
Necessary technical equipment
Certificate of worked hours at each level
Accident insurance
Liability insurance
Taxes
ATTENTION! The advanced kayak courses aren't scheduled in the Món d'Aventura activities calendar. If you are interested in doing any of these courses, please contact our reservation center and we will explain how to do it.